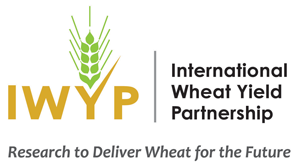 The IWYP Translational Hubs
The IWYP Translational Hubs are an important and distinctive feature of the IWYP initiative. Hubs are centralized technical pipelines that validate and develop the novel traits discovered by the IWYP research program into pre-products for adoption by varietal breeding programs, both public and private, in richer and poorer countries. The establishment of such Hubs is crucial because it broadens the utility of IWYP's discoveries and facilitates the critical steps of downstream validation and pre-breeding development that are typically lacking in most discovery research programs around the world. The first and largest IWYP Hub at the International Maize and Wheat Improvement Center (CIMMYT) in Mexico has been exploiting the novel genetic resources discovered in the IWYP program to convert elite spring wheat lines into pre-products that are being disseminated globally to breeding programs. Building on this success and recognizing there are a substantial number of geographies where winter wheat markets are more significant, IWYP took a decision to establish Winter Wheat Hubs in the US and Europe to accelerate the development of IWYP innovations in these two distinct germplasm groups. These three interconnected Hubs form the "IWYP Hub Network". Research innovations from the IWYP research projects may feed directly into these new Hubs or may be transferred directly from the IWYP Hub at CIMMYT following validation and pre-breeding into an elite spring wheat "chassis".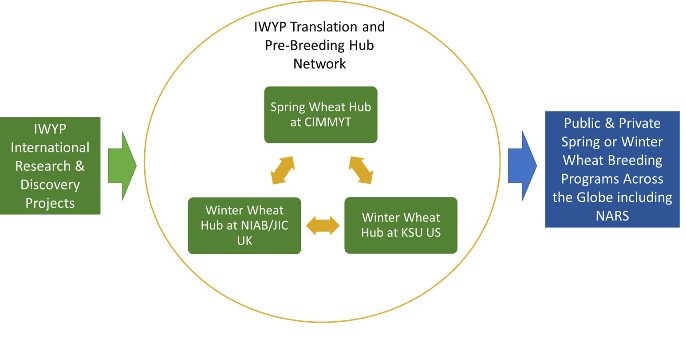 ---
Spring Wheat Hub at CIMMYT
The IWYP Spring Wheat Hub is managed by CIMMYT in conjunction with IWYP and is located at the CIMMYT field station near Ciudad Obregon in Mexico. The IWYP Hub at CIMMYT serves as the central technical platform for evaluation of the innovations generated by both IWYP Research Projects and Aligned Projects as well as a development pipeline for building them into elite adapted germplasm for distribution, with the required supporting breeding tools, to other public and private programs through its existing networks and collaborations.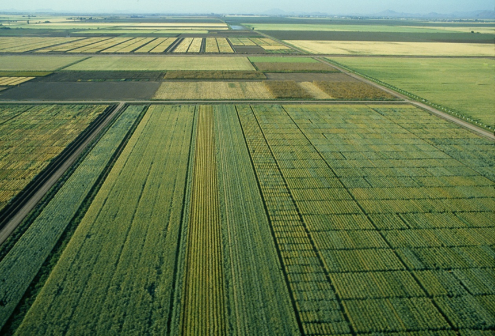 The IWYP Hub at CIMMYT provides a pivotal resource for the IWYP Science Program as a whole. It is a unique, fundamental and distinguishing feature of IWYP relative to other research initiatives. This aspect of the IWYP Program is considered a critical asset by Funders, private industry and the wheat research community as it is the delivery vehicle for adding value to IWYP research outputs.
Dedicated support for the IWYP Hub at CIMMYT is provided by our Funders. This funding is separate from that provided to support IWYP research projects selected from Competitive Calls. If additional support for more demanding technical aspects becomes necessary, additional funds could be provided by direct costs from IWYP Competitive Grant awards or ad hoc funds.
The IWYP Hub at CIMMYT – Benefits of this Approach
Overall, the IWYP Hub at CIMMYT provides a central service point as both a technical platform for validation and integration as well as a development pipeline for prebreeding and delivery.
Serves as a central technical platform for validation and prebreeding of research outputs from the overall coordinated IWYP Science Program
Brings all IWYP research discoveries into a single source to compare and combine
Research and breeding is conducted side-by-side encouraging maximum utilization of discoveries and accountability of both
Enables easier cross-referencing between research areas and resources are used more efficiently
Validation of research discoveries from all projects are conducted under the same environmental conditions thus improving the precision of comparing the genetic effects of the discoveries
Utilizes the "right" environments for evaluation and integrates outputs in the most relevant elite germplasm which increases potential impact
Makes it easier to identify combinations of outputs that increase yield additively and / or synergistically to generate added value
Facilitates the development of a product pipeline to continuously assemble the research outputs into the most optimal combinations and move new and existing research outputs toward delivery
Will provide an established conduit for delivery of discoveries, traits and germplasm to breeding programs worldwide
Overall, enables IWYP to efficiently drive the discoveries / traits / germplasm toward the market
Why the IWYP Hub at CIMMYT?
Long established expertise in breeding elite wheat germplasm with demonstrated global economic impact
World renowned breeding facilities with a critical mass of physiologists, geneticists, breeders and support staff
Provision of research facilities and field space for as required by projects
Necessary expertise in trait validation through field trials and precision phenotyping plus genotyping services
A full-time dedicated IWYP Hub manager with reporting obligations to IWYP
As the CIMMYT site(s) represent the major wheat production environments, validation and deployment of research outputs are likely to have a major impact in these areas
Connection to the well-established and successful International Wheat Information Network (IWIN) for distribution of traits and germplasm to worldwide breeding programs
Who has Access to the IWYP Hub at CIMMYT?
The Program Director and Program Manager have the responsibility, in conjunction with CIMMYT, to manage the capacity and research inputs that enter the IWYP Hub. These decisions are guided by the Scientific Advisory Committee and approved by the Science and Impact Executive Board. Discoveries that are moved to the IWYP Hub include those from:
CIMMYT researchers
IWYP supported Research Projects
IWYP Aligned Projects
Other research programs as submitted and vetted for IWYP fit
---
North American Winter Wheat Hub
In 2020 the USDA National Institute of Food and Agriculture (NIFA), an IWYP Partner, awarded a multi-year grant to Kansas State University (KSU) to lead the IWYP US Winter Wheat Breeding Innovation (WWBI) Hub. The (WWBI) Hub will focus on the development of discoveries for higher yielding winter wheats for the US wheat market. The Hub will capitalize on the state-of-the-art infrastructure, equipment and widely recognized technical expertise of the KSU and USDA wheat scientists located at KSU. KSU wheat geneticist Dr. Eduard Akhunov serves as the Project Director and in collaboration with the KSU and USDA ARS wheat breeding and genetics teams coordinate the Hub activities. Selection of trait targets to transfer (that have been developed in the international IWYP research program) into a set of regional elite winter wheat lines is being managed by a public-private team of breeders to ensure that the developed products will have the highest potential commercial and economic value for the US wheat industry.

The WWBI Hub at KSU was purposely designed as a public-private partnership, with private partners including private seed companies and state wheat commodity boards as stakeholder contributors of resources. The current list of partners includes the Kansas Wheat Commission, Kansas Department of Agriculture, Kansas Wheat Alliance, Heartland Plant Innovations, Colorado Wheat Administrative Committee, Nebraska Wheat Board, Oklahoma Wheat Commission, Texas Wheat Producers Board, National Association of Wheat Growers, BASF, Syngenta, Corteva Agriscience, KWS, Limagrain and representatives of the U.S. winter wheat public breeding programs.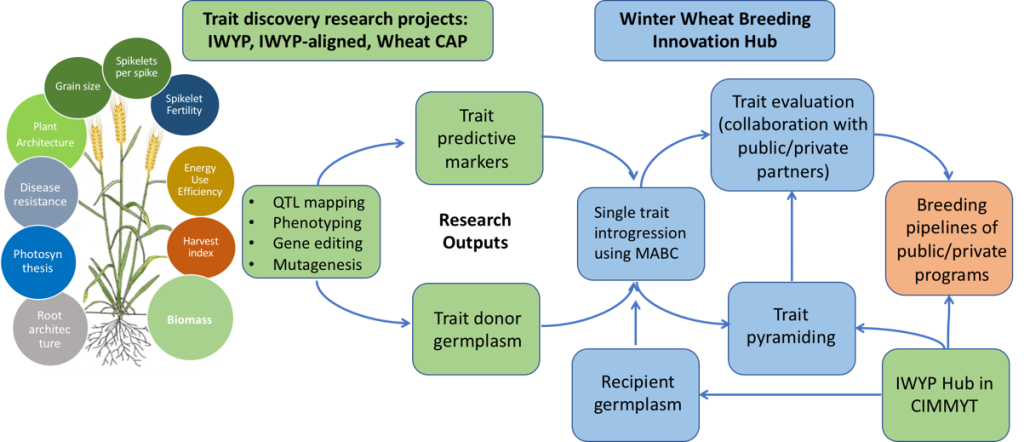 WWBI Hub trait introgression and evaluation strategy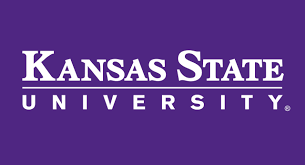 ---
European Winter Wheat Hub
Building on the wealth of existing investment in UK wheat R&D, including the UK Research and Innovation BBSRC-funded Designing Future Wheat program (DFW), the European Winter Wheat Hub accelerates the translation of UK and global research discoveries into commercial plant breeding. IWYP private industry partners BASF, KWS, RAGT and Syngenta have entered a collaboration with the National Institute of Agricultural Botany (NIAB) to provide a translational pipeline supporting European winter wheat improvement. Created as a public-private partnership, the European Winter Wheat Hub combines novel traits discovered by collaborative international teams in IWYP into a range of high performing European winter wheat genetic backgrounds for assessment and subsequent deployment in winter wheat breeding programs. In partnership with IWYP, the commercial breeders select key genetic/trait discoveries made in the IWYP Program that have potential value for the European wheat community and commercial markets. NIAB will then use its expertise in pre-breeding to produce new genetic lines for the assessment of of selected IWYP research outputs across different genetic backgrounds and growing environments. As part of the wider existing IWYP Hub Network consisting of translational pipelines operating on Spring Wheat at CIMMYT (in Mexico and the North American Winter Wheat Breeding Innovation Hub at Kansas State University, USA, the European Winter Wheat Hub will ensure that cutting edge discoveries are rapidly available to both the participating winter wheat breeders and to the global wheat breeding community.