IWYP Funding Opportunities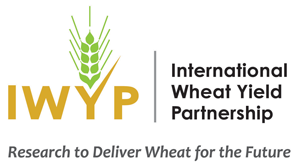 2nd IWYP Competitive Call for Research Proposals – The General Process
The International Wheat Yield Partnership (IWYP) has a goal of increasing the genetic yield potential of wheat by up to 50% in the next 20 years. IWYP is based on a unique new model that brings both public and private partners together with the aim to fund and coordinate research, and deliver breakthroughs in wheat yield potential. IWYP seeks and supports specific research areas in wheat that will not only aid to reach our goals and objectives but also balance and enhance a larger Science Portfolio of connected projects that will further generate added value. While IWYP and its Partners observe the competitive process and international expert peer review to assess research projects, portfolio management is also considered. For transparency, below is a brief synopsis of the process so far.
The Call was opened on 19 December 2016 with Pre-Proposal submissions due 3 March 2017. The Call does not have a predetermined target for the number of projects to select nor a total amount of funding to award.
The Call was extensively advertised via mass email; postings and announcements at the Plant and Animal Genome Conference; postings on the websites of IWYP, some Consortium members of IWYP and the Wheat Initiative; American Society of Agronomy and Crop Science Society of America Newsflash; IWYP Twitter account; IWYP LinkedIn page; and word of mouth.
The research scope areas for the Second IWYP Competitive Call included:

Increasing carbon capture before flowering
Increasing biomass o Optimizing harvest index
Enhancing photosynthetic pathways
Specific changes in plant architecture
Modifying phenology, e.g., flowering time
Increasing carbon flow into grains
Hybrid wheat development (system, traits, genetics, breeding methods, heterotic groups, etc.)
Root structure and growth o Faster / alternative breeding methods
Modelling to define the optimal traits / combinations per environment

By 3 March 2017 IWYP Management had received 70 Pre-Proposals. IWYP Management reviewed the PreProposals and those that were out of scope, did not fit the IWYP criteria or were deemed of poor scientific quality were discarded.
The Pre-Proposals were sent for peer review to 6 internationally recognized scientists with demonstrated expertise in wheat germplasm, photosynthesis, breeding, plant genetics, genomics and a good knowledge of current ongoing worldwide wheat research. The identity of the reviewers will remain confidential. The review panel consisted of 3 experts from the public sector and 3 experts from private industry. Full reviews were also undertaken by the IWYP Management totalling 9 independent assessments per Pre-Proposal, with exceptions where conflicts of interest (COI) were declared and applied. Each reviewer provided assessments for all Pre-Proposals, unless a COI was declared.
Declaring potential conflicts of interest (COI) and acting in an appropriate manner are well known guiding principles for reviewers when undertaking peer review. These principles were reinforced with specific and detailed guidelines of what constitutes a COI that were sent to each member of the IWYP Peer Review Panel and each agreed to declare COI's as appropriate. There were several instances where a COI was declared and these were applied.
Reviewers were asked to assess, via ratings and brief comment, the novelty and value of the idea, the quality of the scientific approach, potential impact on the genetic yield potential of wheat, the suitability of the germplasm and approach, the screening and assays to be applied, the types of evaluations and environments, the scale of the intended work, overall ability of the research team to deliver and the probability of success against the overall IWYP goals. Reviewers were not asked to assess goodness of fit to the IWYP Science Portfolio as this is done by the IWYP Science and Impact Board at a later stage.
Reviewers were asked to score their assessments numerically based on the several categories provided. Space on the review form was also provided for brief succinct written comments. As stated in the application materials and results communication, no feedback will be provided to applicants at the Pre-Proposal stage.
Reviews of all Pre-Proposals were completed by 24 April 2017.
The results of the peer review scores were tabulated, analyzed and ranked. Recommendations and all reviewer comments for each Pre-Proposal were considered. Review scores and ranks were grouped by overall assessment, IWYP Management, total outside reviewers, outside public reviewers), and outside private industry reviewers. The data were then examined to identify outliers that indicated any biases for scope areas or group organization perspectives.
Finally, an overall assessment by IWYP Management was undertaken based on the peer review results along with a re-examination of the Pre-Proposals relative to IWYP criteria, goals and objectives, and the IWYP Science Portfolio. The assessment was used to develop a discussion paper to the IWYP Science and Impact Executive Board (SIEB) to guide the assessment and discussion at the SIEB meeting of which Pre-Proposals to select for Full Proposals. The SIEB made the final selections based on the criteria described above.
Emails were sent to Project Leads on 5 June 2017 informing them if they had been invited to submit a Full Proposal or not. Full Proposal and Application Guidelines were sent on 9 June 2017. For those invited, the deadline for submission of a Full Proposal is 14 August 2017.
Following this deadline, expert peer review conducted by invited international experts will be used to conduct detailed assessments of the Full Proposals. Reviews are scheduled to be completed by mid-October 2017. IWYP Management will compile and analyze the results. The IWYP SIEB will then discuss the results and nominate selected Full Proposals for funding. Funding agency Partners will make the final funding decisions based on fit to agency research portfolios, goals and objectives, and funding availability. It is expected that by early 2018, official Offers of Grant will be made to the selected institutions.
See the table below for the estimated timeline of this Call.
APPROXIMATE TIMETABLE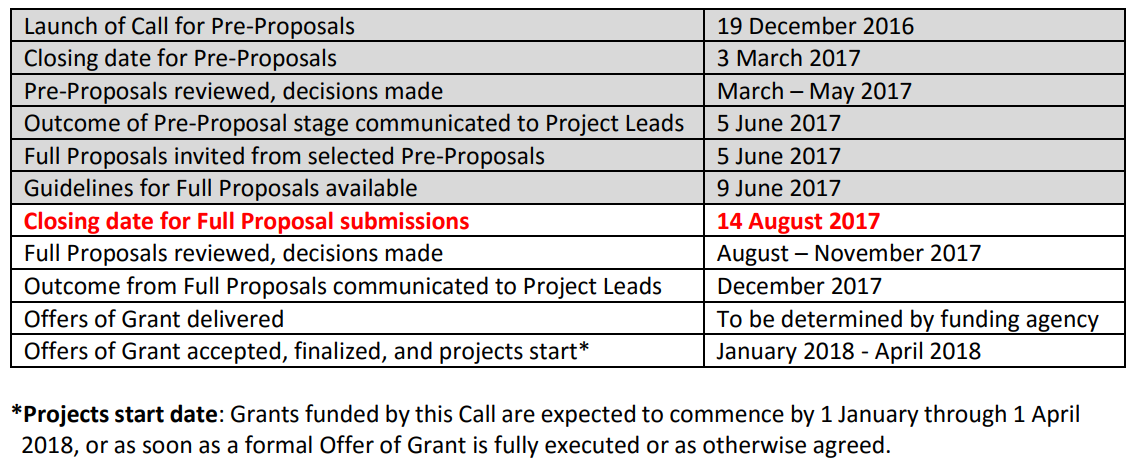 ---
The International Wheat Yield Partnership (IWYP) is a major public/private initiative being supported by research funders, international agencies, national and international research organizations and industry partners.  Its goal is to increase wheat yields globally in both developed and developing countries. IWYP is led by a Program Director, an international Board of funders, scientific experts and members from commercial breeding companies.